Reading "The Age of Empathy"
I'm in the middle of reading The Age of Empathy by Frans de Waal.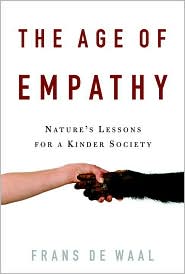 So far it's really good, even though I'm somewhat struck that it takes scientific experiments to verify what many animal activists have taken as a given for so long.
I'll likely write up a more comprehensive review of the book when I finish, since I'm enjoying it so much, but for now I thought I would just offer some quotes from the book that I have found important or meaningful.
Our nobler strivings come into play only once the baser ones have been fulfilled. If attachment and empathy are as fundamental as proposed, we had better pay close attention to them in any discussion of human nature. There is also no reason to expect these capacities only in humans. They should manifest themselves in any warm-blooded creature with hair, nipples, and sweat glands, which is part of what defines a mammal.

This obviously includes those pesky little rodents.

(p. 69)
...Animal studies are now seriously lagging behind what we know about human empathy. This may be changing though, thanks to a new study by Canadian scientists, titled "Social Modulation of Pain as Evidence for Empathy in Mice." This time, the word empathy is free of quotation marks, reflecting the growing consensus that emotional linkage between individuals has the same biological basis in humans and other animals.

(p. 70)
With preconcern in place, learning and intelligence can begin to add layers of complexity, making the response ever more discerning until full-blown sympathy emerges. Sympathy implies actual concern for the other and an attempt to understand what happened.... Since this is the level of sympathy that we, human adults, are familiar with, we think of it as a single process, as something you either have or lack. But in fact, it consists of many different layers added by evolution over millions of years. Most mammals show some of these – only a few show them all.

(p. 96)
...Taking someone else's perspective is not limited to human adults. It is best developed in animals with large brains, but those with smaller brains don't necessarily lack the capacity.

(p.98)
Commitment to others, emotional sensitivity to their situation, and understanding what kind of help might be effective is such a human combination that we often refer to is as being humane. I do believe that our species is special in the degree to which it puts itself into another's shoes. We grasp how others feel and what they might need more fully than any other animal. Yet our species is not the first or only one to help others insightfully. Behaviorally speaking, the difference between a human and an ape jumping into the water to save another isn't that great. Motivationally speaking, the difference can't be that great either.

(p. 107)
Have a look at this photo and story about chimpanzees gathering to mourn the death of one of their own. A timely example of animals exhibiting emotions.